Top Children's Music Blogs award for Daddy Donut
Daddy Donut has been selected as one of the top Children's Music Blogs and Websites To Follow in 2018. Cool! Thanks!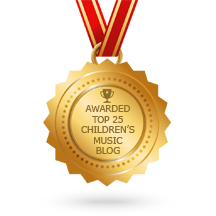 Check it out: https://blog.feedspot.com/children_music_blogs/
This is what they write: "We've carefully selected these websites because they are actively working to educate, inspire, and empower their readers with frequent updates and high-quality information".
And this is what they have to say about me:
"Daddy Donut is a Swedish musician who produces fantastic music and videos for children, all central to the topic of dinosaurs. On this blog you will find posts introducing each of his dinosaur songs and videos, complete with fun and interesting facts about different dinosaurs. Also, kids will learn all about dinosaurs from this unique children's music, which includes songs about the T-Rex, Triceratops, Brontosaurus, and more."
Thanks a lot!